Recently I bought a bag from thinkgeek.com and when it arrived, it had a minor quality control issue.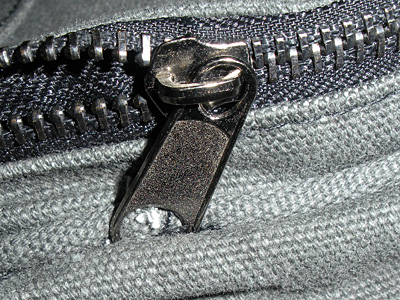 So I sent them a little message:
The coolest bag ever. I only have two small quality control comments:

Firstly, I'm sure it's just the nature of the fabric, but I've never picked so many loose threads from a new product. I mean, this is to be expected from any new fabric product, but I probably could've knitted another bag out of the scraps of thread. Secondly, and this one is slightly more … bothersome. When the bag arrived, the zipper for the rearmost compartment was actually sewn into the nearby seam. I debated sending it back, but I didn't want to wait even longer to have my bag back. So I just cut it free with some delicate pocketknife work and re-sewed it. I'm sure the zipper was sewn on before the final seams were sewn, and that the zipper just landed in a very inopportune place, but you may want to have the appropriate people keep an eye on that. Otherwise, this is the best, most durable, most spacious bag I've ever had.
I was really just trying to let them know. But then, I got this response:
Hey, Camaron –

Thanks for the feedback. To show how much we love you and want you to have a non-defective bag, we're shipping you another Bag of Holding (whether you want it or not).

No, really, another sweet bag. All yours. I mean sure you COULD give it away as a gift this holiday, but then you wouldn't have two. It'll ship on order 11aac55ee and you should receive it sometime next week. Enjoy!

Thanks,
-Rich
My jaw hit the floor. I mean, it's an awesome bag. It's a fifty-dollar bag. And they're sending me another one for free?! Wow. That's amazing customer service. The second one just arrived today (all zippers are swinging free), and I have yet to decide what to do with it. Maybe I will keep it, after all. Fill one with work supplies and one with DnD supplies. A business bag and a pleasure bag. Wait, that sounded dirty. You know what I mean, though.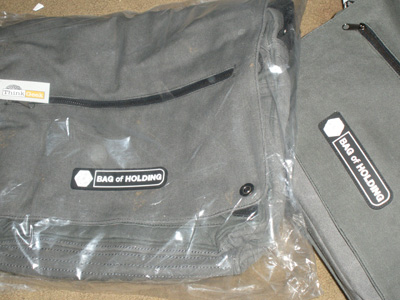 Although, I have considered giving it as a gift, but I can't decide to whom I would give it.
I previously shopped thinkgeek.com for a nifty titanium spork, but after this experience, I think I'll be shopping there more frequently. Especially for nerdy shirts.